Aspirin will precipitate asthmatic attacks in some patients.
This distinct clinical syndrome, called aspirin-induced asthma (AIA) includes vasomotor rhinitis, nasal polyps, intrinsic asthma, and aspirin sensitivity.
Aspirin may also aggravate angina attacks in patients with Prinzmetal's variant angina (PVA). There have been no reports describing the occurrence of coronary ischemic abnormalities in patients with AIA during acute attacks precipitated by aspirin.
We report a case of coronary artery spasm during an episode of bronchial asthma induced by aspirin.
Case Report
A 42-year-old black man was admitted July 19,1985. He is known to have been asthmatic since childhood and had been receiving theophylline and bronchodilators until one year ago. Approximately one month prior to admission, the patient had taken ibuprofen, 400 mg, and within two hours, had developed an acute asthma attack. He presented to our Emergency Department, was treated, and then discharged on oral theophylline and intermittent albuterol inhalation.
The patient did well until the day of admission, when one hour after ingesting two aspirin tablets for headache symptoms, he developed an acute exacerbation of his asthma. Thirty minutes later and 45 minutes prior to coming to the Emergency Room, he noted the onset of pressure-like substemal chest pain radiating to the left arm, associated with nausea and diaphoresis.
He had a past history of hypertension treated for two years and had had an episode of renal colic four years ago. Family history included hypertension and congestive heart failure. The patient had smoked cigarettes for many years but had stopped nine months before this episode. Present medications included theophylline, hydro-chlorthiazide, methyldopa, and albuterol. Review of systems was otherwise negative. Acute effects of passive smoking on lung function read in the article on our site https://onlineasthmainhalers.com/acute-effects-of-passive-smoking-on-lung-function-and-airway-reactivity-in-asthmatic-subjects.html.
Physical examination revealed a patient in moderate to severe distress with blood pressure 150/90 mm Hg, regular pulse of 124 beats per minute, temperature of 36.6 °C (98 F°), and respiratory rate of 24 per minute. Bilateral expiratory wheezes were present throughout both lung fields; the remainder of the physical examination was unremarkable.
He was treated with isoetharine via nebulizer. When his dyspnea improved, the history of chest pain was revealed. The ECG showed ST elevation in leads v,-v4> hyperacute T waves in V and ST depression in Va (Fig 1). The patient received intravenous nitroglycerin, morphine sulphate, and oral nifedipine with improvement. A second ECG, performed 20 minutes later, showed resolution of the ST segment elevation (Fig 2). He was admitted to the coronary care unit.
Arterial blood gases drawn when first seen in the emergency room revealed pH = 7.48, Pot, 101.1 mm Hg; and Pco,, 37.8 mm Hg, while the patient was receiving 5 IVmin oxygen via nasal cannula. Other laboratory studies included creatinine phosphokinase (IU/L), done at eight-hour intervals: No 1) 1410, MB 5 percent, No 2) 1170, MB 2 percent, No 3) 889, MB negative. On admission, lactic dehydrogenase was 382 and SGOT was 47 (U/L). Subsequently, four days later, LDH was 236 (U/L) and SGOT was 35 (U/L). Other laboratory results including CBC, platelet count, urinalysis, erythrocyte sedimentation rate, prothrombin time, partial thromboplastin time, SGPT, cholesterol and triglyceride levels, and chest roentgenograms were normal. Bedside spirometry suggested obstructive lung disease with FEVlt 1.57 and FVC, 3.6 before, and FEV" 1.68, FVC, 3.71 after administration of a bronchodilator. Electrocardiographic stress test using the Naughton protocol, performed on the tenth hospital day revealed 1 to 2 mm ST segment depression at two minutes after which the test was terminated. At the time of termination, the patient was asymptomatic with blood pressure of 180/80 mm Hg and a regular heart rate of 120 beats per minute. During left heart catheterization and coronary arteriography, he was found to have a normal left ventriculogram, a normal right coronary artery, and a normal left anterior descending coronary artery. The left circumflex coronary artery showed a 35 percent narrowing in one of its lateral branches.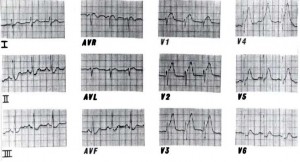 Figure 1. The initial ECG taken one hour after the ingestion of aspirin during the acute asthmatic attack, showing the ST segment elevation in V,-V4.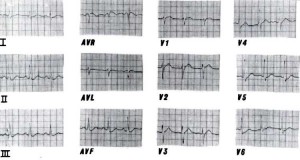 Figure 2. The followup ECG taken 20 minutes following the treatment with intravenous nitroglycerin and oral nifedipine, showing the resolution of the ST segment elevation.